Valdobbiadene Prosecco DOCG: Sensational taste...guaranteed.
Conegliano-Valdobbiadene Prosecco Superiore DOCG (Wine of Controlled and Guaranteed Origin) Col del Lupo is a guarantee that every single bottle comes from the territory between the two production capitals of Conegliano and Valdobbiadene. The first one, Conegliano, is the site of Italy's first Winemaking School, the second one, Valdobbiadene, is the heart of the actual production zone, with the greater concentration of high hillside vineyards... a "naturally" superior territory!
The Conegliano Valdobbiadene Area
The area of Conegliano Valdobbiadene lies only 50 km from Venice and 100 from the Dolomites and it is situated in a hilly territory where man has dedicated himself to vine-growing for centuries, creating a landscape which is so appealing that it is now a UNESCO World Heritage Site.
For the production of Conegliano Valdobbiadene Prosecco DOCG only the following varieties are permitted: Glera, with a minimum of 85%; other varieties, up to a maximum of 15% (local varieties as Verdiso, Bianchetta, Perera and Glera Lunga or international varieties as Pinot and Chardonnay).
The production of Conegliano Valdobbiadene DOCG wines takes place according to the set of rules that regulate the cultivation of the grapes, their fermentation and the subsequent natural "prise de mousse". The sparkling wines are produced using the «Martinotti Method», this method calls for re-fermentation in pressurized tanks (autoclaves) and highlights the wines' primary and secondary fragrances and their fruity and floral aromas, whilst preserving all of their elegance, liveliness and freshness.
In order to recognize a Conegliano Valdobbiadene Prosecco Superiore it is important to read the label. The fundamental element is the name of the region, Conegliano Valdobbiadene, which will be highlighted. Both names or just one may be mentioned, and may be followed by the word "Prosecco" accompanied, in the case of the sparkling wine, by the word "Superiore".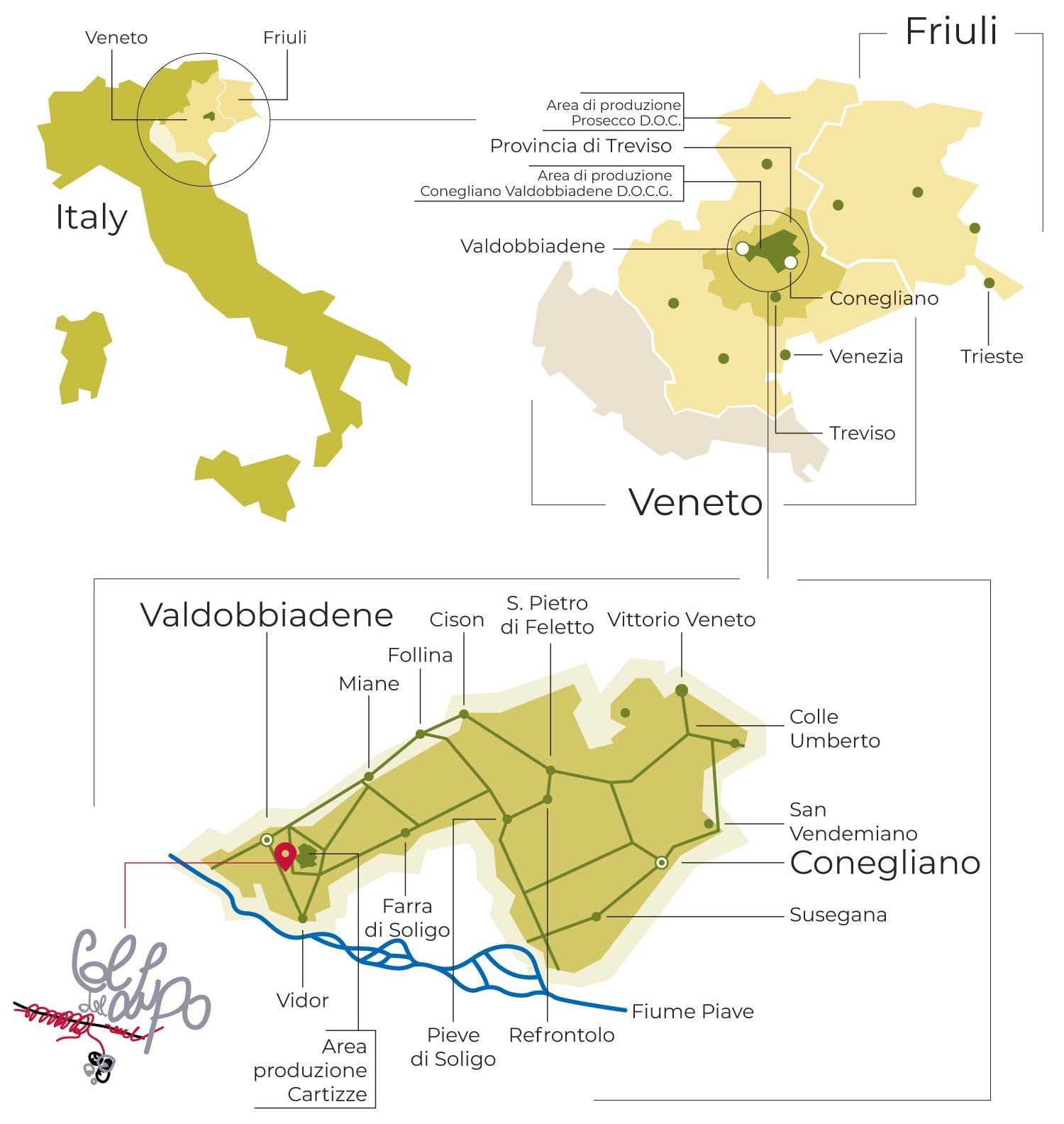 Every bottle of Conegliano Valdobbiadene must bear a Government DOCG strip, which guarantees the quality of the wine and certifies that it has passed a large number of tests, from those in the vineyard to the chemical and organoleptic analyses of the finished product.

For us of Col del Lupo, DOCG is above all the recognition of a lifetime's work to achieve excellent quality at every stage of processing and production.

-->